Coaching Cycles (Informative Writing Example)
As an Instructional Coach, my job is to work through coaching cycles with those teachers who would like to improve or enhance their curriculum or teaching practices. Currently, I am involved in an informative writing coaching cycle with a 5th-grade teacher.
Informative Writing/ Genius Hour Research Notebook & Posters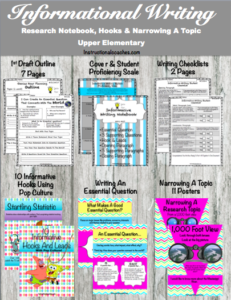 What Is A Coaching Cycle?
Coaching cycles take place between an instructional coach and a teacher. In my school district, a teacher has the option to work with any of our 3 coaches. They are NEVER forced in a coaching cycle. Coaching cycles can be conducted on an individual basis or as a group. Coaching cycles are individualized and may look different from classroom to classroom, however, in our district, we follow the same process regardless of the size of the coaching group or topic that we are working on. We follow the PLC framework and work on answering the 4 questions of the PLC.
Who are our learners and what do we want them to learn? (identify standards and select a student-centered goal that connects to the district Vision, Mission, goal, building goal and state standards) DATA NEEDS TO DRIVE INSTRUCTION!!!!!
How will we know if the students master the essential learning? (Plan formative and summative assessments)
What will we do if they don't learn it or already know it? (Plan for differentiation)
Reflect and share. (Examine pre and post assessments, reflect on the coaching cycle)
Coaching Cycle Intro Video: (created by me: Kristi Druvenga)
Informative Writing & Genius Hour:
The past few years I have worked with 4th and 5th-grade students on genius hour.  The concept behind genius hour is that everyone is a genius in something or they become a genius of a topic of their choice. Students are given a choice in their learning by choosing their own topic to study. Their ideas drive their research. Students choose their own topic and go through the process of conducting research (informative writing process). I quickly realized that genius hour and informative writing go together like mashed potatoes and gravy (my personal favorite:). You can't have one without the other. At first, I struggled to organize how I would teach genius hour, so I created a plan.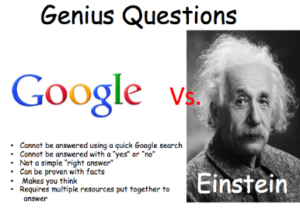 You can grab my entire plan for free here.
 Create A Plan For Research
Step 1: Who are your students and what do you want them to know?
Identify Standards:
The first step in any coaching cycle is to identify your standards. What do you want your students to know? What are your district and building goals? In the coaching cycle process this is where we would unpack and repack the grade level state standards and create "I can" statements for our priority standards. This is also the 1st essential question in the PLC process that our school uses. Check out book by Richard Dufour and Robert Eaker called Professional Learning Communities At Work: Best Practices for Enhancing Student Achievement to learn more about PLC's and how they run.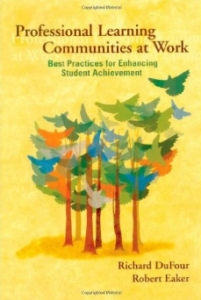 Step 2: How will we know if each student has mastered the essential learning?
Plan Assessments:
The second step in a coaching cycle is to plan your assessments. What are your pre-assessment and post-assessments going to look like, measure? How will you use your pre-assessment data? How will your data drive instruction? Are your pre and post assessments similar enough to compare apples to apples? Are they quality assessments? How do you know?
You can find assessments on the internet, or, create your own. I like to use a mix of the two. Be careful with assessments that you don't create yourself. I use graphic organizers that I find online that fit with what I am teaching as some of my formative assessments. It's important to make sure that ALL of your assessments, even formative assessments, are aligned to the standards you are working on. I also use the informative writing research notebook as a formative assessment. I choose to create my own summative assessments and rubrics (found in my informative writing pack). I also just started using (and creating) my own student proficiency scales. I believe that it is important for students to understand their learning process and the difference between low-level skills and higher order thinking skills.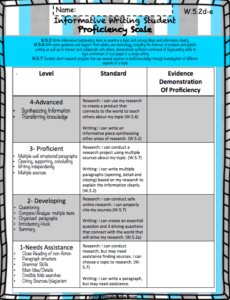 Step 3: What will we do if they don't learn it and what if they already know it?
Differentiate:
The third step in the coaching cycle is to make a plan for differentiation. Are students exposed to innovative and effective teaching strategies and characteristics of effective instruction? How will we deepen the learning for students who have already mastered the essential skills?
In trying to figure out a plan on how to differentiate I first needed to figure out how we would teach informative writing. I was working 5th-gradeh grade teacher who had taught 1st grade for the past 10 years. I myself had previously taught 3rd graders. I did have experience with teaching genius hour to 5th graders, but I knew I needed to improve my process. So….. I started researching.
I stumbled upon this AMAZING blog called Upper Elementary Snapshots where I found some pretty amazing lessons to start with that were created by the talented Rebecca Rojas from Create Teach Share. I used the 4 mini lessons for getting started with informative writing. I really wish I would have found this sooner. Seriously…….if you haven't found their blogs yet you NEED to follow them. I ended up purchasing the the Informative Writing For Upper Elementary bundle. Trust me, if you are fairly new to informative writing, it's a lifesaver.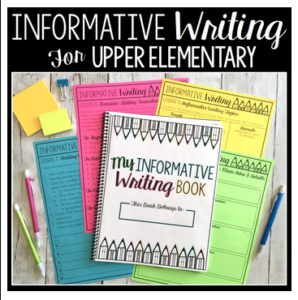 I realized that my students struggled most with the organization piece when it came to putting all of the teaching together. In order to plan for differentiation, I ended up creating a research notebook along with posters on how to narrow a topic and how to create an essential question that connects with the world. I used this right along with the informative writing lessons. My students struggled the most with narrowing their topics and creating their essential questions. They needed a visual and I needed a better way to explain the process. I also started conducting individual conferencing with those students who needed extra support in both of these processes. The writers workshop framework is something that the teacher I am working with and I are using for our differentiation process throughout the informative writing unit.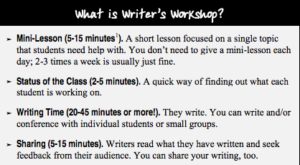 Step 4: Reflect and Share
Presentation:
How will your students share their newly found knowledge? What will they create? Once you have a plan in place it's time to organize the implementation. I prefer to put all of my lessons into a proficiency scale. I use a backwards lesson design similar to the Understand By Design (UBD) framework and Marzano's Competency Based Education. I am also a HUGE fan of Marzano's proficiency scale bank.