Will You Be My Story Buddy?
Learn how even the youngest of students (Kindergarteners) can hit multiple standards by creating digital stories with the Story Buddy 2 app. Check out this Story Buddy  App tutorial to get started on creating your own Story Buddies!
This past week, I have had the opportunity to help some Kindergarteners create digital stories about their friends. It is one of my FAVORITE jobs as an instructional coach! I LOVE to use technology with students to enhance learning.  It's AMAZING what even the youngest students are capable of. It was really exciting to see them in action using the technology tool Story Buddy 2. There are tons of digital story making apps out there, but I find the Story Buddy 2 app is the most user-friendly, even for the youngest of students! This project meets multiple standards including writing, technology, speaking and listening and employability skills (see below). Thank you for inviting me into your classroom for this project Mrs. Bratten:)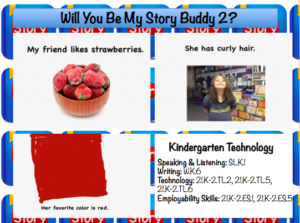 Step 1: Interview And Take Notes
Mrs. Bratten's Kindergarteners interviewed a friend to find out their friend's favorites including favorite color, food and activity. Mrs. Bratten gave her student's the job of taking notes about their friend's favorites using a graphic organizer. This was a great activity to practice their speaking and listening skills along with learning about another friend in their class.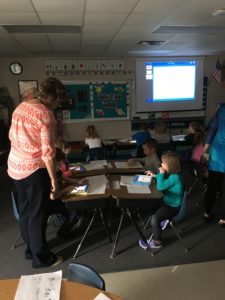 Step 2: Write Sentences
The Kindergarteners then used their notes to write sentences based on their friend's answer. Each sentence will be used on a page of their digital book. The students were focusing on starting each sentence with a capital letter, writing complete sentences using proper punctuation and finger spacing.
Step 3: Take Pictures/Find Images
Our first task in starting to create our digital story was to get a good picture of their friend. This ALWAYS takes a LOT longer than I think it is going to, but we always manage to get it done right. The kindergarteners learned how to use the camera app on their iPads. We worked on keeping our fingers from getting in the way of the camera, holding the iPads steady, waiting for the focus option to stabilize before taking the picture and checking to make sure we had at least one quality (non-blurry) picture with our friend looking at us. Our next step was to find a picture on the internet that represented the food the students will use in their digital story. We used Google images to find these pictures. This lead to a great opportunity to teach some digital safety skills. Once the student found the picture that they wanted they learned how to save the image to their iPad.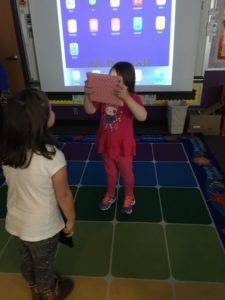 Step 4: Create Digital Stories
Now it was time to put all of the hard work together to create a digital story. We used the Story Buddy 2 app on the iPads. Students first created a new story and saved it with their names.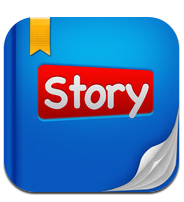 Name, Save & Edit: My first goals were to have each student name their creations so that they would it was theirs when we went back in to work on them. I also wanted to show the students how to save properly and re-enter to edit their digital story.
Type 1st Sentence: The students then entered back into their story to put it all together. We had the students start out with typing their first sentence using the typing tool and the keyboard. Students learned how to capitalize letters (beginning of their sentence and names) using the shift key on their iPad keyboards. They also learned how to use the spacebar to create finger spaces between each word in their sentence (to match their handwritten sentences) and how to use the prediction tool built within the iPad to help with spelling.
Upload Pictures: Once their sentence was written for their first page, the students learned how to use the camera button to add the picture (from their iPad's camera roll) they took of their friend. They also learned how to rotate, move and resize their picture. The pictures were centered directly under their sentences to mimic the pages of a real book. We created the first page together.
Create Multiple Pages: Once the first page was finished it was time to add multiple pages using the same process on their own. Each student created one page for each sentence they wrote. They each wrote 3 sentences and created 3 pages.
Last steps: The last step was to create a cover page for their books. We added another page for our title page. The students typed a title and entered a background color for their cover page. We created these together. Their next job was to add a background color to all of the pages that they created. They did this on their own. The students then were shown how to move their title page to the beginning of their story by dragging and dropping it into the correct order. Once these steps were completed, it was time to save. Once saved, I was able to save the completed projects to my Google Drive where I shared them with the teacher and sent them to the print shop to be printed in color. In addition, I posted them on our district Facebook page to share with the world. The teacher sent the completed stories home with parents at conferences and created a bound classroom book.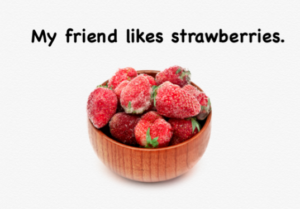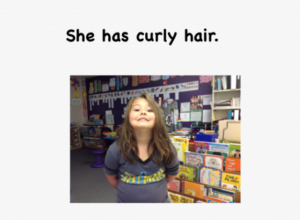 Kindergarten Standards Met:
Speaking and Listening Standards
SL.K.1: Participate in collaborative conversations with diverse partners about kindergarten topics and texts with peers and adults in small and larger groups.
Follow agreed–upon rules for discussions (e.g., listening to others and taking turns speaking about the topics and texts under discussion).
Continue a conversation through multiple exchanges.
Writing 
W.K.6: With guidance and support from adults, explore a variety of digital tools to produce and publish writing, including in collaboration with peers.
Technology Literacy
21.K–2.TL.2 Essential Concept and/or Skill: Use a variety of technology tools and media–rich resources to work collaboratively with others.
In a collaborative group, use a variety of technologies to produce a digital presentation or product in a curriculum area.
Use technology resources for communicating and sharing ideas with others.
Participate in learning activities with or about learners from other countries and/or cultures.
21.K–2.TL.5 Essential Concept and/or Skill: Understand and practice appropriate and safe uses of technology.
21.K–2.TL.6 Essential Concept and/or Skill: Understand basic technology hardware and software and their application.
Employability Skills
21.K–2.ES.1 Essential Concept and/or Skill: Communicate and work appropriately with others to complete tasks. Work appropriately and productively with others.
21.K–2.ES.5 Essential Concept and/or Skill: Work productively and are accountable for their actions. Deliver quality job performance on time.
Recognize quality work.
Demonstrate a sense of timeliness.
Stay on task until work is completed.
Understand concept of ethical behavior in producing work.
Demonstrate accountability for individual performance.
A must-read for incorporating digital literacy into your classroom!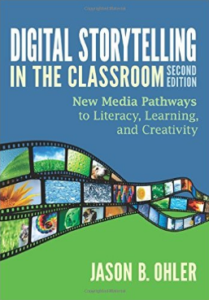 Get Your Copy Here
Equip your students with essential 21st-century media literacy skills, as they read, write, speak, and create art within the context of digital storytelling, and reach deeper understandings in all areas of the curriculum! In this second edition, both novice and technologically adept K-12 educators will find:
Practical techniques to combine storytelling with curriculum content
Tips for exploring effective storytelling principles through emerging digital media as well as via traditional literacy skills in reading, writing, speaking, and art
Visual aids and video clips that illustrate best practices in media composition
Digital Storytelling Article: Edutopia
*This post may contain affiliate links