Breakout Of Your Box With Breakout EDU!
Breakout of your box with Breakout EDU! Do you feel that you need to breakout of your box? Do you have an unruly or just busy class? Do your students need to work on team building and social skills? Well, break out of your box with Breakout EDU! Breakout EDU creates ultra-engaging learning games for people of all ages. Games (Breakouts) teach teamwork, problem solving, critical thinking, and troubleshooting by presenting participants with challenges that ignite their natural drive to problem-solve. To "break out" of the box students need to work together to solve a series of puzzles in order to open each lock. Breakout EDU brings the Escape Room to the classroom. Escape rooms have been popping up all over the country. Escape rooms are where people are willingly locked into a room. They are given an hour to break out using a series of hidden clues where they run into red herrings and need to work together to break out of the room. Rather than breaking out of a room, students are asked to breakout of a box.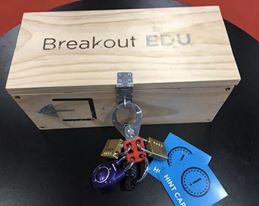 Social Skills & Employability Skills:
These are GREAT to use with Employability Skills and to build social skills for students of all ages. There are games appropriate for students K-12 and beyond. I have used Breakout EDU with Kindergarteners, 9th graders and adults. The Gingerbread Man Is Loose In Our School that goes along with the book with the same title was great before the holidays with Kindergarteners. The Kindergartener's job was to work together to break the gingerbread man out of the box. Before Christmas break I used Reindeer Games with a 5th grade class that needed to work on social skills. Their goal was to work together to break the reindeer out of the box by solving reindeer games. I have also used Unlocking Shakespeare with a 9th grade English class as a way to assess Employability Skills to end the Shakespeare unit. There are literally hundreds of breakout both with the tangible box and locks and online breakouts. To get started with your Breakout use this link. Breakout EDU boxes are $89 and come with all locks you will need. They will also come with a password to access all breakout games. Extra materials can be purchased here.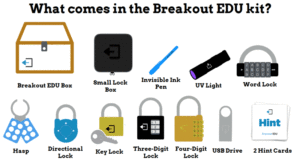 Introduce New Concepts:
Breakout EDU's can be used to introduce a new lesson or concept or reinforce or strengthen learning. It is also great to use at the end of a unit to bring closure or to reinforce skills.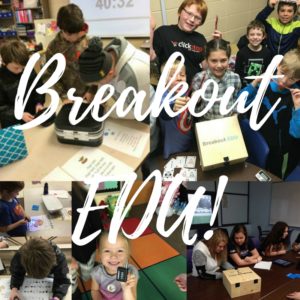 Skills Used With Breakout EDU:
All Breakout EDU games teach critical thinking, teamwork, complex problem solving, and can be used in all content areas. The breakout box immediately sparks curiosity and forces students and teachers alike to think outside of the box. Talk about motivation!!!! Breakouts are great to use to teach and assess communication skills along with speaking and listening standards (especially with little ones). As mentioned above, they also work great with teaching and assessing Employability skills. Breakout EDU's provide opportunities for students to grow as leaders. Often it is the least likely student in class that will show their natural leadership skills. An interracial part of conducting Breakouts in your classroom is the debriefing process. Students need the opportunity to reflect on the process and evaluate their own thinking. They need the chance to break out of their own box to expand their learning.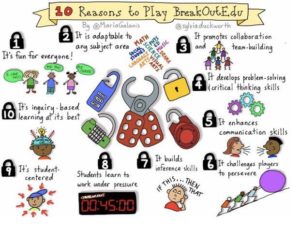 *This post contains affiliate links.